Argentina has been chosen as one of the best places to go in 2019!
We are glad to let you know that Argentina has been chosen as one of the best places to go in 2019.
Argentina is mentioned as one of the 10 Best Value, it has been selected as the #6 top destination for 2019.
"In the past few years, costs for travellers to Argentina have crept up, but the country's efforts to encourage visitors can offer some significant savings. Overseas visitors who pay for their lodging with an international credit card will receive a refund on the 21% rate of Value Added Tax, plus there are savings on visa fees for certain nationalities. The solar eclipse crossing the north of the country is another incentive to visit in 2019, along with Argentina's marvellous mix of world-beating wine, awesome mountain and lake scenery and its crackling-with-life capital Buenos Aires".
by the Lonely Planet Magazine.
Top places to go in Argentina:
Glaciar Perito Moreno, Los Glaciares National Park, Patagonia, El Calafate #1
Among the Earth's most dynamic and accessible ice fields, Glaciar Perito Moreno is the stunning centerpiece of the southern sector of Parque Nacional Los Glaciares. Locally referred to as Glaciar Moreno, it measures 30km long, 5km wide and 60m high, but what makes it exceptional in the world of ice is its constant advance – up to 2m per day, causing building-sized icebergs to calve from its face.
In some ways, watching the glacier is a very sedentary park experience, but it manages to nonetheless be thrilling.
Glaciar Perito Moreno is as much an auditory as a visual experience when huge icebergs calve and collapse into the Canal de los Témpanos (Iceberg Channel). This natural-born tourist attraction at Península de Magallanes is close enough to guarantee great views, but far enough away to be safe.
A series of steel catwalks (almost 4000m total) and vantage points allow visitors to see, hear and photograph the glacier. Sun hits its face in the morning and the glacier's appearance changes as the day progresses and shadows shift. A closed refugio with glass walls allows for glacier viewing in bad weather.
Some 18 times since 1917, as the glacier has advanced, it has dammed the Brazo Rico (Rico Arm) of Lago Argentino, causing the water to rise. Several times the melting ice below has been unable to support the weight of the water behind it and the dam has collapsed in an explosion of water and ice. To be present when this spectacular cataclysm occurs is unforgettable.
Parque Nacional Iguazú, Puerto Iguazú, Misiones #2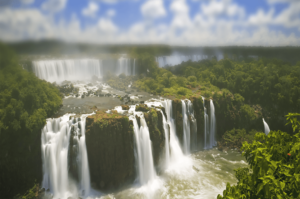 On the Argentine side of the marvelous falls, this park has loads to offer and involves a fair amount of walking. The spread-out entrance complex ends at a train station, with departures every half-hour to the Cataratas train station, where the waterfall walks begin, and to the Garganta del Diablo. You may prefer to walk: it's only 650m along the Sendero Verde path to the Cataratas station, and a further 2.3km to the Garganta. You may well see capuchin monkeys along the way.
The entrance complex has various amenities, including lockers (AR$70–270), a couple of ATMs – you have to pay in cash in pesos – and a restaurant. There's also an exhibition, Yvyrá-retã, with a display on the park and Guaraní life essentially aimed at school groups.
There's enough in the park to detain you for a couple of days; admission is reduced by 50% if you visit the park again the following day. You need to get your ticket stamped when leaving on the first day to get the discount.
Last entry is at 4:30 pm.
A 1.1km walkway across the placid Río Iguazú leads to one of the planet's most spectacular sights, the 'Devil's Throat.' The lookout platform is perched right over this amazingly powerful, concentrated torrent of water, a deafening cascade plunging to an invisible destination; vapors soaking the viewer blur the base of the falls and rise in a smoke-like plume that can be seen several kilometers away. It's a place of majesty and awe and should be left until the end of your visit.
From Cataratas train station, train it or walk the 2.3km to the Garganta del Diablo stop. The last train to the Garganta leaves at 4 pm, and we recommend taking it, as it'll be a somewhat less crowded experience. If you walk, you'll see quite a lot of wildlife around this time of day, too. Another option is to visit at lunchtime, as most organized tours stop to eat for an hour around 1:30 pm.
The entire trail is wheelchair accessible.
Buenos Aires City #3
Born on the banks of "De La Plata" River, this city is full of contrasts. Avenues with sensational European-style buildings and neighborhoods with a sense of tango. Buenos Aires City is undoubtedly the Latin American city that best reflects the cosmopolitan and aristocratic atmosphere of the big European capitals. Visit downtown, La Boca, Monserrat, San Telmo, Puerto Madero, Palermo and Recoleta. International cuisine, regional dishes, desserts and a wide selection of Argentine wines which reveal the spirit of Buenos Aires beginnings. On the outskirts of the city, you will be able to get in touch with "the gaucho experience", that legendary character fond of freedom and countrysides. And why not have a barbecue or our well-known "asado".
See more: Click here!
If you are interested in create a new programme to promote Argentina as destination, please do not hesitate to contact us.