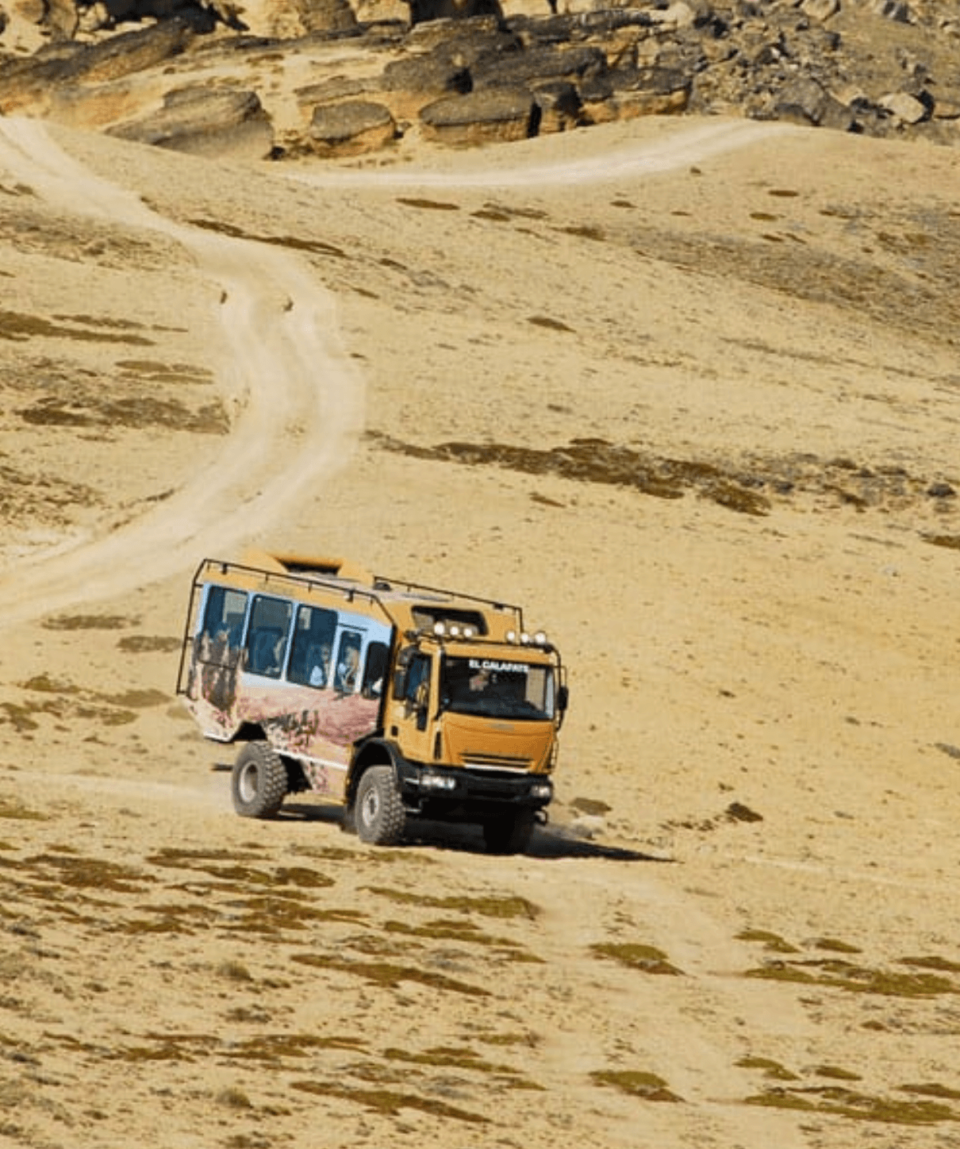 4×4 EXPERIENCE TO THE CALAFATE'S BALCONY – HALF DAY
from
Vacation Style

Holiday Type

Adventure, Bird Watching, Budget, Charming, Classic, Climbing, Family-friendly, Farm, Forest, Glaciers, Hiking, Lake, Luxury, Mountain, Quad, Quiet, Romantic, Rural, Sports, Trekking, Trendy, Walking Tour, Water Sports, Wild Life
All about the 4×4 EXPERIENCE TO THE CALAFATE'S BALCONY – HALF DAY.
This excursion allows visitors to enjoy natural lookouts with magnificent panoramic viewsw of El Calafate and Lago Argentino. It departs from the hotels in El Calafate and completes a 35-kilometre tour over the line of hills located behind the village. We will penetrate through Patagonia's beautiful and typical landscapes. Our first stop occurs once we reach an elevation of 1,050 meters where you will get to enjoy the natural viewpoint and panoramic view of El Calafate, the central body of Lago Argentino and, if the weather permits it, the accumulation of the El Chaltén's glaciers, Fitz Roy and Torre. After that, our track continues down the path to the Stones Labyrinth, an exclusive and private attraction of Mil Outdoor SA. This Cretaceous formation is 85 million years old and was once a riverbed. We will then stop for a snack in the Huyliche tea-house from where we will begin our descent down the northern slope of the hill towards la Piedra de los Sombreros (the Stone of Mexican Hats). These curious iron concretions are only found in four locations around the world! After this trip to other eras of world history, we will return back to El Calafate and enjoy the views of the Lago Argentino.
Recommendations: waterproof jacket, comfortable and warm clothing, long pants and raincoat, trekking boots, backpack, sunglasses, sunscreen, gloves, hat.
Duration: approx. 3 hours.

–Summer regular tour departs daily, from December to March, at 10:00 am or 03:00 pm.
–Winter regular tour departs daily, from April to Novermber, at 10:00 am or 02:00 pm.
-Private tour departure schedule is coordinated previously with the passenger depending on their availability.
The tour package inclusions and exclusions at a glance
What is included in this tour?
Items that are included in the cost of tour price.
Pick up and Drop Off at your hotel;
AM Excursion: lunch;
PM Excursion: snacks;
English Speaking guides.
What is not included in this tour?
Items that are not included in the cost of tour price.