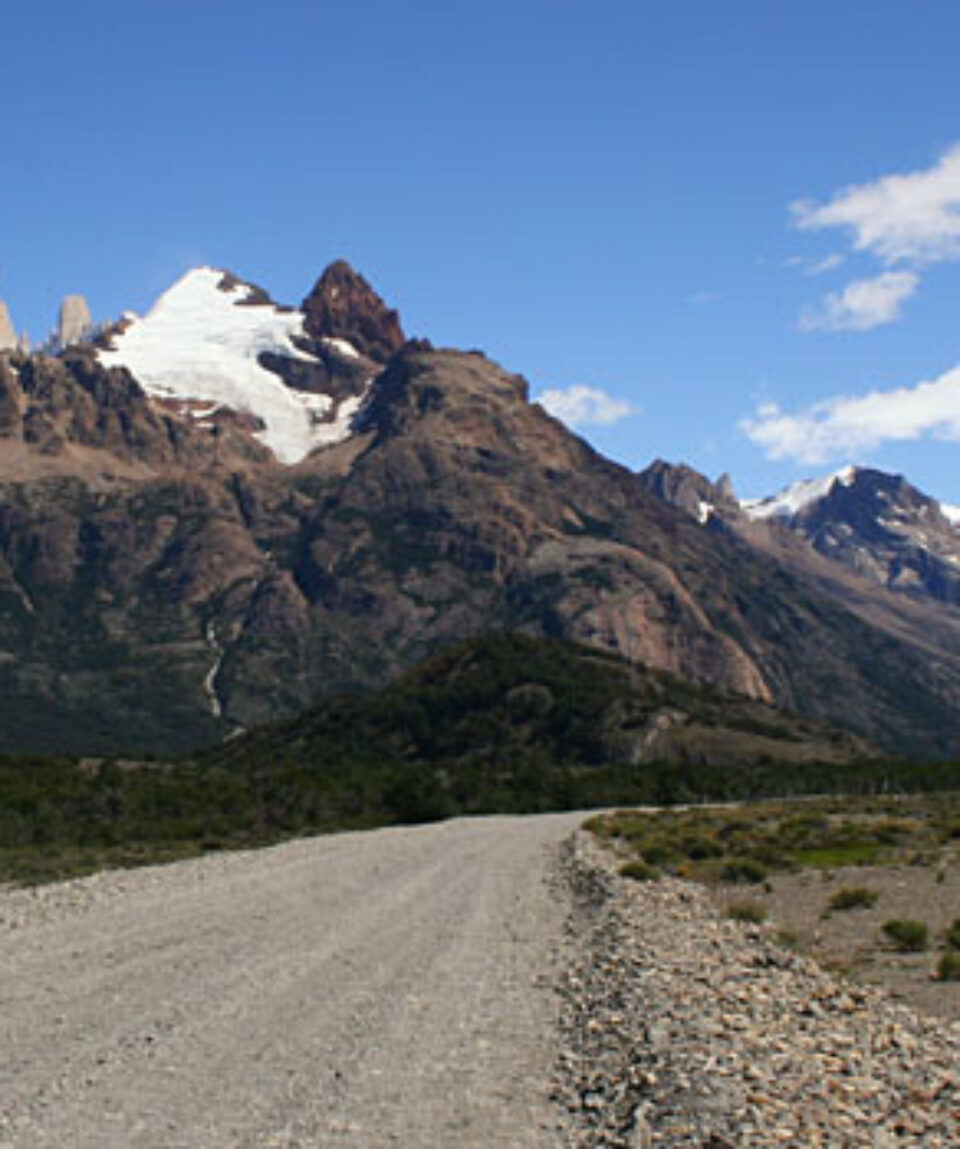 LAGO DEL DESIERTO: NAVIGATION OR TREKK GLACIER HUEMUL – HALF DAY
from
Vacation Style

Holiday Type

Adventure, Bird Watching, Budget, Camping, Charming, Classic, Climbing, Family-friendly, Forest, Hiking, Ice Trekking, Lake, Mountain, Quiet, Romantic, Rural, Seaside, Trekking, Trendy
All about the LAGO DEL DESIERTO: NAVIGATION OR TREKK GLACIER HUEMUL – HALF DAY.
A unique excursion, where you can enjoy one of the most rugged areas of Patagonia. This is a different option where we can interpret nature, take many photos, visit historic sites and observe native flora and fauna in the area. In this excursion we have the option to sail on Lago del Desierto or make a trek to the Huemul glacier and its lagoon. For lunch we will enjoy a "Picada Argentina" (Mix of different cheeses, meat, olives, and bread), some of the best products from Argentina, and of course, enjoy a good wine.
We will leave El Chaltén at approximately 10 am and take the mountain gravel road (RP 23) northbound for 40 km. While driving along the road, we will pass through spectacular landscapes such as the valley of Río de Las Vueltas, framed by the Cordón de Los Cóndores.
Shortly after we will begin to enjoy the amazing view of some glaciers such as the Eléctrico, Piedras Blancas, and Cagliero. We can also see the Marconi glacier, the gateway to the Southern Continental Ice Field.  As we move forward through the dense forest, we will cross many streams that turn into rivers and that run under historical bridges.
We will also make a stop at the beautiful Cóndor Lake to do some bird watching.  Other waterfalls along the way will invite us to stop: The first being El Salto del Anillo, for a souvenir photo. The next is Salto Argentino where torrent ducks can be observed. We also have an option to stop at a landmark that tells the history of the area.
Once we arrive at Lago del Desierto, we will have two options:
1) Trekking to the Huemul glacier and lake and marvel at the charming forest and hanging glacier located at the lake. Self-guided trekk.
2) Sailing on Lago del Desierto and admiring the valley where it's located and a different view of the north face of Fitz Roy.
After a short walk we will return to our vehicle and head back to El Chaltén arriving at 16 hs.
Difficulty: Easy
Experience Required:  No previous experience required
Durartion: 5 hours.
-Regular tour departs everyday, from October to April, at 11.00 am.
-Private tour departure schedule is coordinated previously with the passenger depending on their availability.
The tour package inclusions and exclusions at a glance
What is included in this tour?
Items that are included in the cost of tour price.
Pick up and Drop off at your hotel.
What is not included in this tour?
Items that are not included in the cost of tour price.
Meals;
Mountain guide;
Tips.
Part 1

TRANSFER TO THE TRAIL

This trek starts with a transfer to the trail head at El Pilar, located 17km to the north of the town. The journey itself is enjoyable for the lovely views of the valley, the Río de Las Vueltas, that we drive along, and constantly present the impressive Cordón de Los Cóndores. After about 20 minutes we start to see Mt Fitz Roy from a different angle.

Part 2

START WALKING

We start walking in a dense forest of lengas, that protect us from the winds coming off the Continental Ice Field. Right from the start we are able to see lots of different glaciers; Marconi, Eléctrico, Cagliero and in the distance, towards Lago del Desierto, the Vespignani glacier.

Part 3

KEEP ON WALKING

The path is easy as it's quite flat and the climbs are gentle. We arrive at our first viewpoint, Piedras Blancas glacier and a bit later we leave the forest and end up in a clearing where we can admire in all their splendour the peaks of "S", Saint Exupéry, Poincenot, Fitz Roy, Mermoz and Guillaumet.

Part 4

MORE WALKING

From here we continue for a few more minutes until we arrive at Poincenot camp ground, located in beautiful lenga forest inhabited by countless varieties of birds, which will accompany us with their song until we reach the campground Río Blanco. This is the base camp for the most adventurous climbers who will attempt to conquer these granite masses.

Part 5

START CLIMBING

We then climb 400m in about an hour until we arrive at Laguna de los Tres. On arriving at the highest point on the path, we are rewarded by the majestic views of Fitz Roy, the glacier de los Tres and its lagoon. The grandeur of this location makes you feel very insignificant.

Part 6

LAGUNA LOS TRES

From here we circle Laguna de los Tres and head towards the viewpoint of the Laguna Sucia and its glacier. Again, the breathtaking views are unforgettable.

After a rest and a bite for lunch, we will start the descent and walk back to El Chaltén.

Part 7

The end

En route we go past some varying landscape, crystal clear streams and we pass by Laguna Capri – a favourite spot for photographers. After visiting the lagoon we drop down into the valley where El Chaltén is located.

Having had such an exciting day, why not relax in the town having a beer made in the town's microbrewery or a hot chocolate with some homemade cake!?