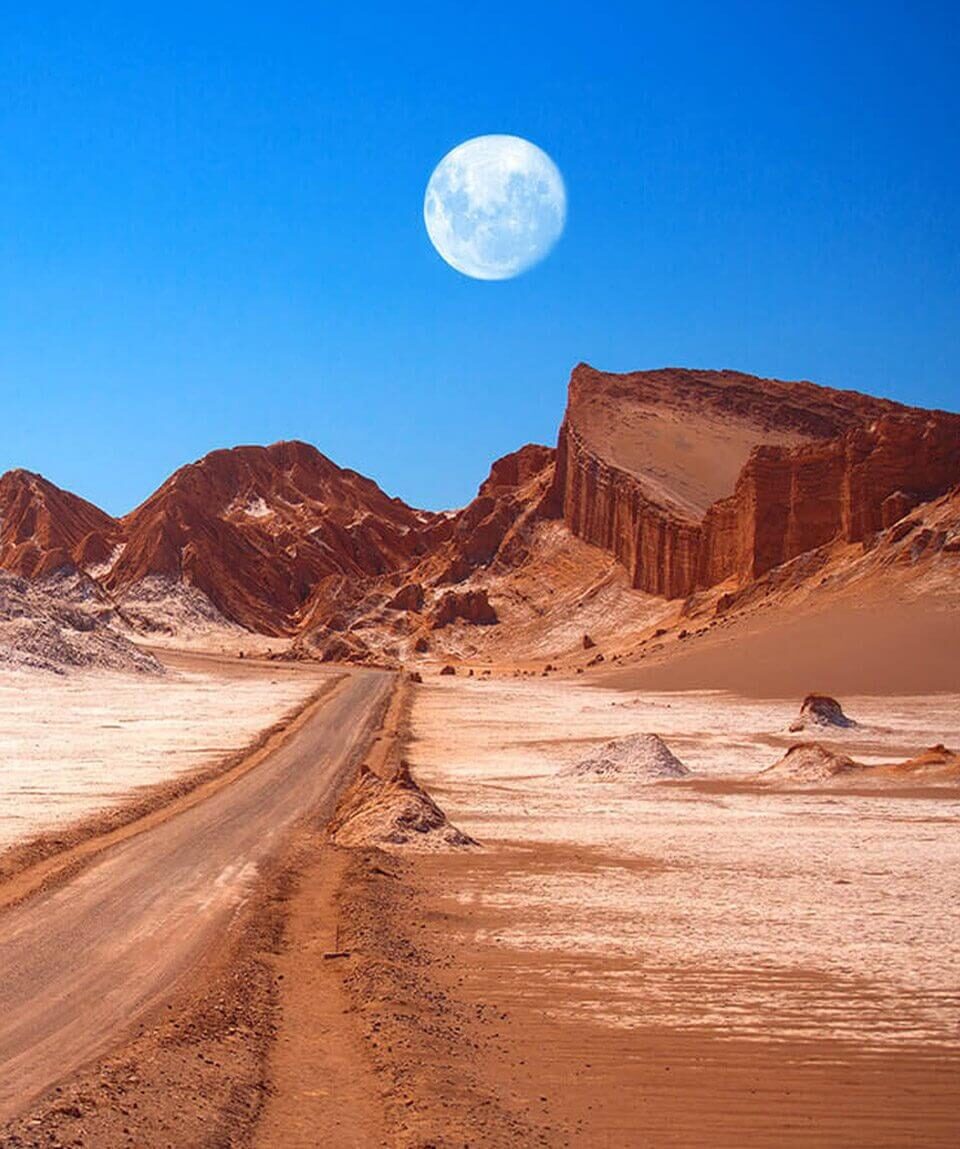 MOON VALLEY & DEATH VALLEY – HALF DAY
from
Salt Mountain Range
San Pedro de Atacama, Chile
Vacation Style

Holiday Type

Adventure, Boutique, Budget, Charming, Classic, Desert, Drinks, Ecofriendly, Face to Face, Family-friendly, GROUP DEPARTURES, Hiking, Historical, Luxury, Mid-range, Mountain, National Park, Photograph, Quiet, Rural, Trekking, Trendy, Walking Tour
All about the MOON VALLEY & DEATH VALLEY – HALF DAY.
After driving 19 km from San Pedro de Atacama, we will reach the unique Salt Mountain Range, one of the main attractions of the area. Located between the Andes and Domeyko Mountain ranges, we observe the "Dinosaur Valley", the "Death Valley" full of interesting stories, dunes for some fun sandboarding and lookouts with views of the mountain range and its volcanoes. Here, we find the breathtaking "Moon Valley". Furthermore, we will have the opportunity to learn about its canyons formed since millions years ago, as well as different components that makes this mountain an unique scenery. We will walk through the heart of the moon valley where we are going to be lucky enough to admire structures such as the amphitheatre, the Major Dune and incredible rock elevations like the magical Three Marys viewer point that hides many indigenous stories behind it. Finally, we finish this experience onto one of the cliffs of the "Death Valley". it is the ideal place to see how the sun sets leading yourself to enjoy a beautiful and colorful sunset.
Recommendations: Comfortable clothing and shoes, water, sunscreen, hat and coat for sunset.
Altitude: 2264 m.a.s.l.
Duration: approx. 5 hours.
-Regular tour departs everyday, all year long.
-Private tour departure schedule is coordinated previously with the passenger depending on their availability.
The tour package inclusions and exclusions at a glance
What is included in this tour?
Items that are included in the cost of tour price.
Eglish Speaking guide;
Water;
Cocktail.
What is not included in this tour?
Items that are not included in the cost of tour price.
Pick up and Drop off at your hotel;
Entrance fee to Moon Valley;
Entrance fee to Death Valley;
Tips.