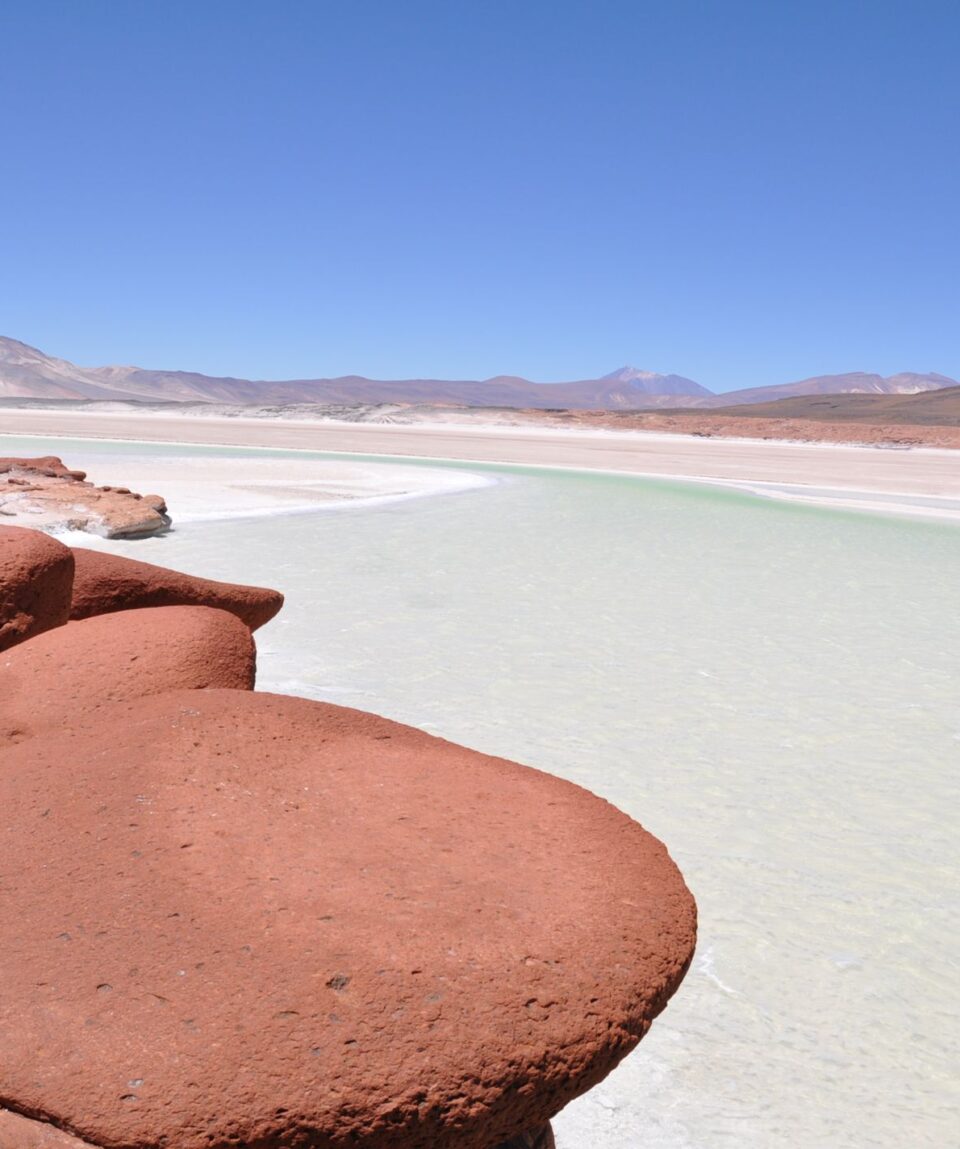 TUJACTU LAGOON, ALTIPLANIC LAGOONS & ATACAMA SALT FLAT – FULL DAY
from
San Pedro de Atacama, Chile
Vacation Style

Holiday Type

Adventure, Boutique, Budget, Charming, Classic, Desert, Ecofriendly, Face to Face, GROUP DEPARTURES, Hiking, Luxury, Mid-range, Mountain, National Park, Photograph, Quiet, Romantic, Rural, Salt Flat, Trekking, Trendy, Walking Tour
All about the TUJACTU LAGOON, ALTIPLANIC LAGOONS & ATACAMA SALT FLAT – FULL DAY.
Almost on the heart of the Atacama Salt Flat and part of Los Flamencos National Reserve, at the Chaxa lagoon we will enjoy a variety of birdlife, mainly flamingos, which because of their beauty are the main attraction at the salt flat. We will walk around the site following a trail to learn about this unique species and admire the general splendor of the lagoons at the salt flat, one of the biggest saline deposits in the world. Moreover, On the way to the High Andean lagoons, we will see the small town of Socaire, locally known for its traditional gastronomy based on the work carried out by its inhabitants since ancient times with crop terraces and irrigation canals that allows corn, quinoa, fava beans, carrots and potatoes to grown which have allowed them to remain here and keep this small and far away village alive. In the High Andean plains, we will visit the Miscanti and Miñiques lagoons located at 4,200 meters (13,779 feet) above sea level on the foothills of the volcanoes of the Andes Mountain Range under the same names. Through their trails, we will enjoy nature in a breathtaking landscape full of contrasts, such as the deep blue clear sky, colorful vegetation and wildlife. The next visit is the Viewpoint in front of the Aguas Calientes and Talar Salt flat lagoons. Overall, the beauty of the place will leave you speechless and finally we proceed to visit the Tujactu lagoon. On our way back, we will visit the town of Toconao on which its bell tower and Saint Luke Church, both of them national monuments since 1951 will lead us to understand the mixture between local culture and religion as well as handicrafts products made out of pumice stone, cactus wood, Alpaca and Llama wool.
Recommendations: Comfortable, warm clothing and shoes to go up to the High Andean plains due to potential low temperature, mineral water, sunscreen.
*Landscape not suitable for people with heart conditions, hypertension or pregnancy.
Altitude: 3.985 m.a.s.l.
-Regular tour departs everyday, all year long.
-Private tour departure schedule is coordinated previously with the passenger depending on their availability.
The tour package inclusions and exclusions at a glance
What is included in this tour?
Items that are included in the cost of tour price.
English Speakig Guide;
Entrance fee to Los Flamencos National Reserve.
What is not included in this tour?
Items that are not included in the cost of tour price.
Pick up and Drop off at your hotel;
Entrance fee to Chaxa Lagoon;
Entrance fee to Miscanti & Meñiques Lagoons;
Tips.