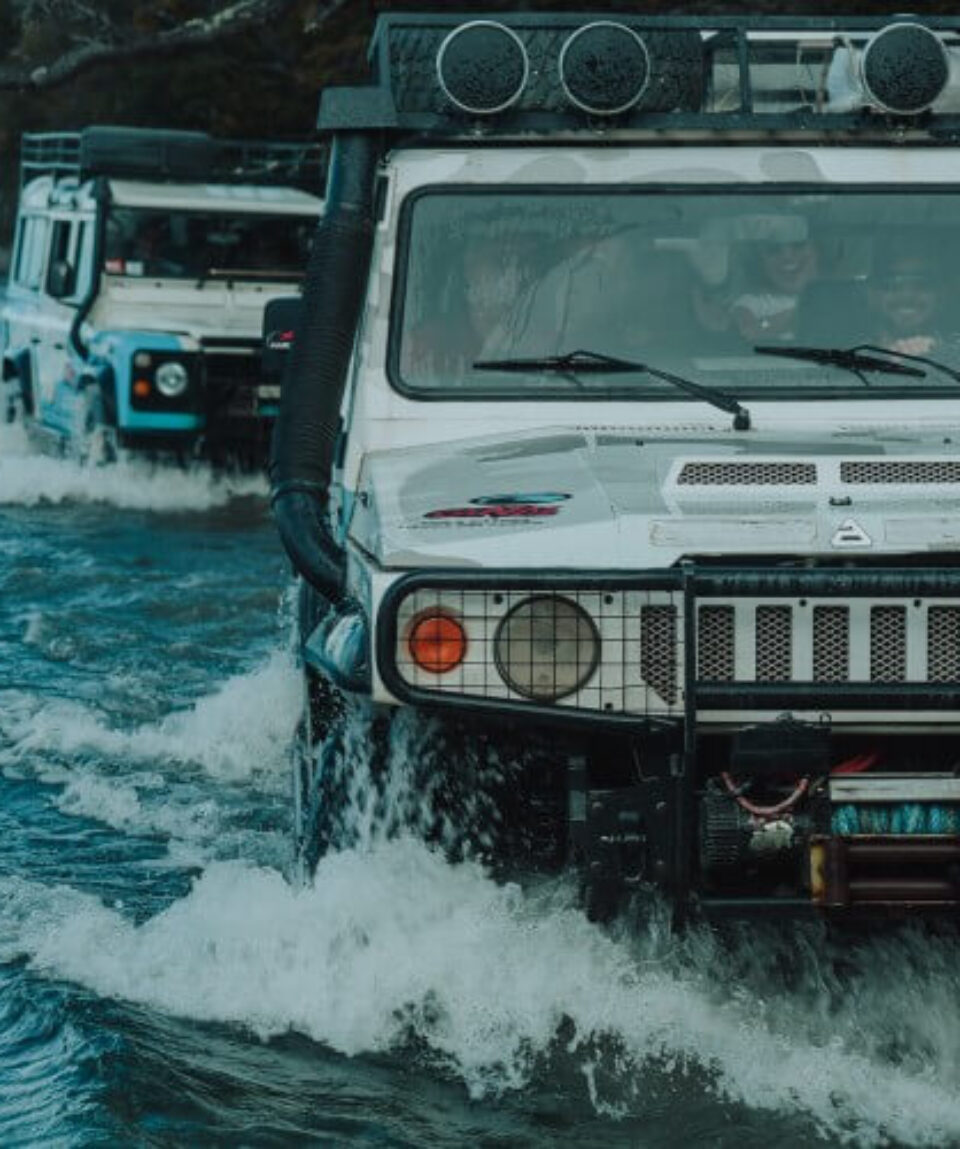 LAKES OFF ROAD IN THE AFTERNOON – FULL DAY
Vacation Style Holiday Type

Adventure, Bird Watching, Budget, Charming, Classic, Family-friendly, Forest, Lake, Mountain, National Park, Quiet, Rural, Seaside, Trekking, Trendy, Water Sports
All about the LAKES OFF ROAD IN THE AFTERNOON – FULL DAY.
"Lakes Off-Road in the Afternoon" is the version of our original tour, that leaves in the afternoon to enable us to learn the secrets that hide behind the Southern Andes in a unique and intense way. This is a true 4×4 excursion of Tierra del Fuego.
For most of those who write on Tripadvisor, it is "the best off-road excursion in Ushuaia".
In this summertime version we aim to fully enjoy the long days and sunsets, so we will begin the tour at 2:30 PM from our office, very close to the port of Ushuaia.
Expert drivers in off-road driving will take you in an authentic 4×4 adventure. On board a 4WD vehicle we will cross the forest and rivers through impossible mud roads, between trees and logging paths, along the edge of a lake with unique views.
This is an adventure suitable for all types of travelers! People with reduced mobility or who prefer to rest their legs can explore, photograph or simply get carried away by the unique nature of these places. The company of our guides, the (already famous) food in our refuge on Lake Fagnano and the Argentine Malbec shared in a friendly atmosphere will be memorable.
All those who want to live a more intimate excursion can have their own guide and their own truck with our "Tailor made trips". There, young children can also join (without age restrictions) and the whole family can go their own way.
We will enjoy the whole afternoon travelling in a relaxed way the landscape of Tierra del Fuego, in an adventure accessible to anyone who wants to free themselves from any limitation. From the Cordillera, we will see Lake Escondido, a small hidden wonder at the bottom of a valley. Then, the gigantic lake Fagnano, imposing and great, will be the center of our tour.
Equipment that the passenger must bring: Waterproof jacket + polar jacket. Waterproof shoes or slippers with good traction.
Duration: approx. 8 hours.
-Regular tour departs daily, from October to March, at 02.30 pm.
-Private tour departure schedule is coordinated previously with the passenger depending on their availability.
The tour package inclusions and exclusions at a glance
What is included in this tour?
Items that are included in the cost of tour price.
Pick up and Drop off at your hotel;
Lunch: Choripan (grilled Argentine sausage sandwich), Argentine prime beefsteaks, salad & dessert. Vegetarian menu available, please tell us in advance;
Drinks: Red wine, soft-drinks, bottled water;
Snack;
English Speaking guide.
What is not included in this tour?
Items that are not included in the cost of tour price.