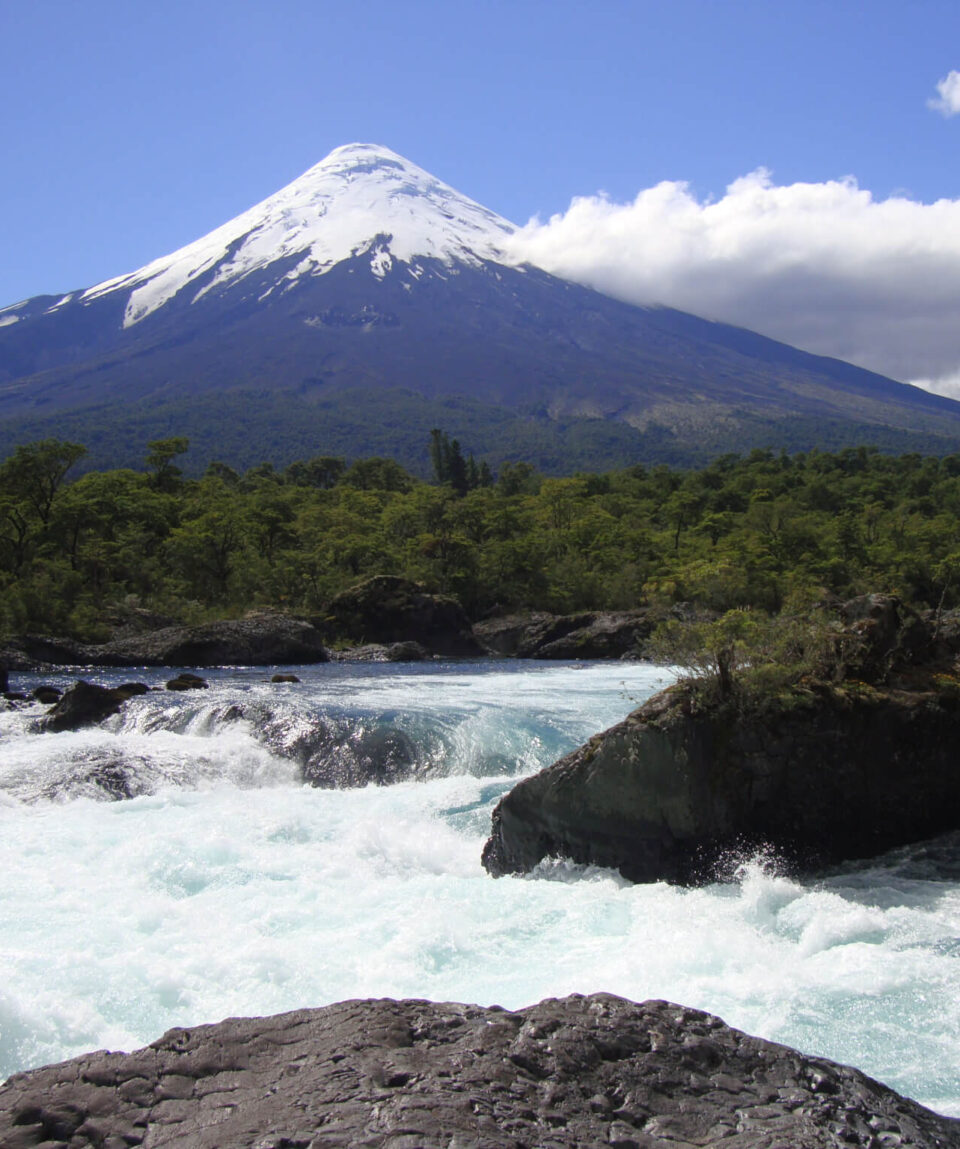 PETROHUÉ RIVER – HALF DAY
From Puerto Varas or Puerto Montt
Vacation Style Holiday Type

Boutique, Budget, Charming, Classic, Ecofriendly, Falls, Family-friendly, GROUP DEPARTURES, Historical, Lake, Local People, Luxury, Mid-range, Mountain, National Park, Photograph, Quiet, Romantic, Trendy, Volcano
All about the PETROHUÉ RIVER – HALF DAY.
This tour starts going to Vicente Perez Rosales National Park, on a road by the
Llanquihue lake shore, enjoying the landscape and magnificent view of the volcanoes Osorno and Calbuco until we get to Petrohue located near by Todos los
Santos Lake.
There we can take a soft walk surrounded by an ever green forest, the Osorno volcano and the beautiful Turquoise colour of Petrohué River. By paying an entrance fee to the National Park we get to see one of the most beautiful places of the country, "Petrohue River Falls", a place where the river jumps great masses of lava crystallized immune to erosion for centuries and formed by smaller stones together by a glassy material that highlights the light. You can not miss it.
From there we continue for about 5 km, from the slopes of Osorno Volcano and Petrohue bordering the River, to the Todos Los Santos lake, where they can take pictures or boarding a vessel that allows them, in a time of 40 minutes or so, to sail Todos los Santos lake or Esmeralda, surrounded by evergreen forests, mountains and the great view of the volcanoes, which form a simply spectacular natural setting.
Recommendations: Comfortable clothes and shoes, hat, sunblock, sunglasses and if it rains a water resistant jacket.
Duration: 4 hours.
-Regular tour departs everyday, all year long.
-Private tour departure schedule is coordinated previously with the passenger depending on their availability.
The tour package inclusions and exclusions at a glance
What is included in this tour?
Items that are included in the cost of tour price.
Pick up and Drop off at your hotel;
English Speaking guide.
What is not included in this tour?
Items that are not included in the cost of tour price.
Lunch;
Entrance fee to Petrohué river falls;
Todos Los Santos Lake Sailing;
Tips.